Posted by Landry Wilkinson, SoundPro on Jun 2nd 2022
Planning for your faith facility's growth should be a key driver in all your gear decisions.
If you're responsible for technology for your worship facility, you're constantly asking yourself and others: what tech gear could make the worship experience better for our congregation? This is an excellent question and should always be top of mind when tackling technology issues, including audio, video, and lighting. However, it should also be about your bigger goals, not just particular pieces, or brands, of equipment. Growth - and planning for growth – must be in the forefront of decision-making when looking at the bigger picture of what you want to achieve with your worship facility. Scalability is key. As your congregation grows, you may also eventually need to expand your facilities and even open another campus - not now, but in the future. What AVL gear can you get in place now to ensure that you can scale up later as you grow? Scalability means growing your tech ecosystem for your expanding congregation without making redundant expenditures or having to replace gear.
SoundPro will be addressing the topic of scaling for growth with a series of articles, videos, and other resources. In this article, I'll start by focusing on what is arguably the biggest trend today – to set the stage as you plan how you'll acquire gear for today's needs, while making sure that you're "future-proofing" for expansion and growth down the road.
The AV over IP Trend
Transmission of both audio and video signals are increasingly moving into a networked environment. This isn't a huge surprise as the move from analog to digital started years ago. However, the key to understanding the challenges is to realize that you won't be replacing analog point-to-point transmission with digital point-to-point. It's about true digital networking with the needed control, standards, interoperability, and ease of use that computer networks have brought to IT as well personal computing. How do you make sense of all the IT language around standards, uncompressed bandwidth, latency, gigabit switches, and more? How do you future-proof your AV selections for the best that AV over IP will offer? Start with looking at two of the biggest drivers of networked audio and video: Dante for audio, and NDI for video. There are more AV/IP offerings available, but these two are a great place to start.

Dante
This one word will make life for you and your worship facility tech team easier down the road, for networking with all your other systems. Start educating yourself and your staff now, to get ahead of the curve. Dante refines digital networking, so that gear from different manufacturers can seamlessly talk to other gear. It allows complete real time AV over IP based on the new generation gigabit switches that are available in the market. What does it accomplish? Uncompressed full bandwidth audio, across a network. Dante – licensed by Audinate – is available in over 3,000 products from more than 500 manufacturers, covering a diverse range of installations and applications across industries, including house of worship. Since Dante can be used with existing networks, many of these applications benefit from infrastructure that is already in place. The main benefit of Dante-enabled gear is the ability to expand your audio systems as your congregation grows. This was once more expensive in terms of infrastructure such as audio cabling and snakes, switchers, and more. But now, lower cabling costs, and a well-designed network provides enhanced flexibility for future changes to the system. Audio routing can be changed on the fly, and it does not require any rewiring.
Dante sound cards are now available for many consoles and mixers including software mixing tools for laptops and tablets. In addition, most top manufacturers build Dante into their products. So, what does this mean for you? What should you know to help future-proof your gear selection? Inquiring about Dante compatibility is a must, as you select mixing consoles, loudspeakers, video over IP cameras, and other products in the networked AV ecosystem. And, importantly, planning for Dante – or any other AV/IP ecosystem – will get you further along the path of future-proofing and network-proofing your entire ecosystem as the movement towards digital is inevitable.

NDI
NDI is about networked video. While Dante has traditionally been focused on audio (until recently when Audinate announced Dante for video), Network Device Interface (NDI) is a royalty-free software standard developed by NewTek to enable video-compatible products to communicate, deliver, and receive high-definition video over a computer network in a high-quality, low-latency manner that is frame accurate and suitable for switching in a live production. SDI had been the digital video standard since the 1980's, but more often today NDI is seen as a better network connection to broadcast video. NDI is the better choice with its faster, high-quality, low latency imaging up to 4K resolution.
How is Dante AV – Audinate's video networking offering – different from NDI? NDI centers around MPEG2 and H.264 based codecs – and provides video compression that's familiar to those domains. Dante AV provides codec control for JPEG2000. NDI is designed for low to mid-quality broadcast, while Dante AV is designed for both broadcast and installed AV that need higher quality and even lower latency. Latency in pure broadcast, is not a big problem, as the viewer is never getting two different signals – live in person, and "broadcast" – simultaneously. However, latency is immediately noticeable and irritating for IMAG in your chapel.
The Bottom Line
Faith facilities – like businesses – have computer networks that serve many purposes, from email and internet access to networked physical security systems. How do you use your IT infrastructure and expertise to also build out your networked audio, and video ecosystem, without causing shared-network problems and bottlenecks? AV over IP is the answer, when using protocols developed for audio and video not for low-bandwidth data that makes up business networks. Do you need highly skilled IT staff to make it all work? Not necessarily, if you get up to speed on AV/IP offerings based on Dante, or NDI, and a few other new generation platforms that are making AV easier. Plus, you'll be taking the most important steps toward scalable, smart AVL gear choices – that bode well for growing your facility in the most affordable, flexible way possible.
---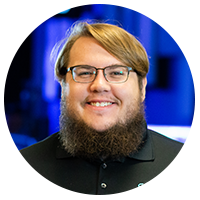 Landry Wilkinson, SoundPro Account Manager
A Worship Arts major from Dallas Christian College, Landry Wilkinson has been with SoundPro since 2019. He holds several audio program certifications and has worked on small events and festivals – with 10+ years of industry experience. A man of many talents, Landry also plays multiple instruments and sings. Landry's Certifications include: Q-SYS Level 2, A&H dLive Level 1, Shure Stem Audio, Dante Level 3, Biamp TesiraFORTE, Symmetrix Composer, FSR Flex, Bose Modeler, Harman Pro Audio Designer, AVIXA Technologist, and QSC Quantum Level 1.