Posted by Laura Strommen, SoundPro on Oct 6th 2022
Estimated Reading Time: 9 Minutes
Here at Sound Productions, achieving the best audio, visual, and lighting for our customers is paramount. But what happens when the room acoustics in our SoundPro offices don't meet these high standards? It's a challenge we addressed head-on by installing acoustic treatment panels in each of our conference rooms.
Like so many businesses, our conference rooms in both our Dallas and Madison offices are long, narrow, and feature little furniture, resulting in a sleek minimalist look…and, unfortunately, a rather cavernous sound that is especially noticeable on conference calls. This posed not only a practical problem—it was a matter of professional pride. Thanks to our vendor partners at Primacoustic, however, SoundPro didn't have to look far to find a solution to this common issue.

Acoustic treatment is ideal for improving the sound in professional and home spaces alike
WHAT IS ACOUSTIC TREATMENT?
A lack of proper acoustical treatment can ruin the sound of any room or venue. Conference calls can sound like they're taking place in a tin can. The most professional singer can sound "off." Echoes can distract from educational lectures or entertaining presentations. Acoustic treatment materials can address these problems in ways that even the highest-end gear can't solve—at the source.
From professional audio engineers or sound system installers to indie content creators or major corporations, acoustic treatment is a popular solution to any environment that needs to control echo and other audio distortion to enhance its sound. Examples of such applications include:
Professional audio (recording studios, mixing, mastering, etc.)
Musicians, voiceover, broadcast/podcast
Education
Home Entertainment
Business (offices, boardrooms)
House of Worship
Hospitality (restaurants, bars)
Entertainment venues
PRIMACOUSTIC'S ROOM TREATMENT SOLUTIONS
Founded in 2000, Primacoustic has proved itself a market leader in high-performance acoustic products. Primacoustic tackles audio challenges with a no-compromise approach, offering a wide range of solutions that meet the needs of all types of marketing segments, from boardrooms to gyms, band venues to home offices. Whether you're outfitting a professional recording studio, a house of worship or school upgrading their space to enhance their remote viewers' experience, or a content creator who wants to get a professional polish to a live stream, Primacoustic's selection of acoustic panels offer the right fit for your room and budget. Every Primacoustic product is precision-engineered to deliver maximum performance quality without compromising on value.

Primacoustic panels come in various shapes, such as the Cloud Altos or Cloud Halo options pictured above
PRIMACOUSTIC'S BROADWAY PANEL SERIES
Primacoustic's Broadway line is comprised of high-performance acoustic panels covered in sound-neutral fabric. Broadway panels provide balanced audio absorption across a wide frequency bandwidth, which minimizes excessive echoes by blocking sound reflections off hard surfaces.
Materials and Construction
The challenge with any acoustic panel is achieving the right density. If the density is too low, the panel will be too soft to absorb lower frequency sounds, but if the density is too high, the panel will be too hard and begin reflecting high-frequency sounds.
In recent years, the foam panels that typically come to mind when thinking of acoustic treatment have become increasingly more porous and less effective, at about 1.3 lbs. of density per cubic foot. By contrast, Broadway panels are constructed of glass wool with a density of 6 lbs. per cubic foot, which provides more balanced and efficient acoustic absorption.
Each panel is fully encased in a micromesh shielding to seal in the glass wool fibers, while the edges are resin-hardened to protect them from wear and tear for years to come. The panels are then covered in a tough, yet acoustically transparent fabric (available in five "architecturally neutral" colors that inconspicuously blend into your space); this fabric resists the buildup of dust and makes the panels easy to clean. Alternatively, you can reupholster the panels with any fabric that matches your aesthetic preference—just make sure it's an equally breathable fabric to avoid changing the panels' absorption effectiveness.
Size Options
Broadway panels come in four standard sizes that come in square or beveled edges according to your personal preferences. Choose from three thicknesses to fine-tune your acoustic environment to the needs of your specific project:
1" (25mm) is a budget-friendly solution for spaces where the only noise is the human voice, such as boardrooms, classrooms, call centers, and other places where you want to optimize speech intelligibility.
2" (51mm) panels are great for venues that feature live music performances or multimedia presentations, including houses of worship, concert halls, and hospitality venues.
3" (76mm) panels are ideal for professional applications or permanent installations such as recording studios, theaters, and broadcast studios where broadband absorption may be required.

Adding form to function, paintable panels let you personalize your space while improving its sound
Paintable Option
In addition to the five base fabric colors (with more slated to be added in the future) and the option of reupholstering the panels with fabric yourself, Primacoustic also offers special paintable panel options, which are finished with white latex. These panels can be painted in any color to match any space. Their smooth surface also makes it possible to print on them using flatbed UV printers; in this way, you can apply custom images, logos, or other designs to achieve a visual interest in addition to acoustic optimization.
Mounting
Sound waves tend to bounce off parallel surfaces: ceiling and floor, walls against walls. Mounting a panel on one or more parallel wall helps absorb this reflection. In addition, mounting acoustic panels in corners can be a great way to optimize your room treatment, because it covers four surfaces (two walls and the ceiling and wall) with one panel.
With a variety of hardware mounting options included and requiring only a few basic tools, Broadway panels are as simple to hang as a picture. They're also simple to align or reposition as desired and can even be mounted using 3m adhesive strips to attach the mounting hardware to the wall, leaving minimal impact on the wall itself.
Cleaning and Maintenance
Encapsulated with micromesh and with edges that have been chemically sealed with resin, the interior of Primacoustics' panels is protected from dust while minimizing daily wear. Cleaning is safe, simple, and easy; a light pass with a vacuum is usually all that's required. If panels are being mounted in a high-traffic area, they can be further treated with a protective upholstery spray and can be periodically cleaned with a moist cloth.
Health and Safety
Broadway panels can be cut to a specific size, but keep in mind that this will compromise the protective micromesh and resin seal. You must follow all precautions by covering your eyes, nose, and mouth while cutting the panels. Make sure to pull the fabric away before cutting the glass wool panel, then properly replace the fabric and use a spray-on 3M adhesive to re-seal the panel.
Unlike popular foam acoustic panels, all Broadway panels are laboratory tested for acoustic performance and Class-A/1 fire safety by meeting stringent ASTM-E84 and Can-UL S102 requirements for flame spread and smoke development. This makes Broadway panels safe for installation in all places of public assembly.

Acoustic panels can be mounted on walls, ceilings, or wherever you have a flat surface
CHOOSING ACOUSTIC PANELS FOR YOUR SPACE
Architectural details, window placement, and ceiling height are just a few factors that play a part in shaping your acoustic needs. In addition, the art of acoustics is highly subjective, not only according to what sort of sound (live, recording, etc.) a space has, but also according to personal preference. In the real world, sound always will bounce off something—the key is to find the right balance of minimizing distractions and optimizing intelligibility. Opting for less treatment that allows some echo may provide a more natural result in your audio, while a heavier room treatment may achieve the right effect if you're aiming for a more intimate recording.
The Ratio of Room Treatment and Common Applications
10% - Echo reduction, general purpose coverage
15% - Live music, boardrooms, commercial buildings, industrial spaces
25% - Recording studio (tracking room), home theater, music rehearsals
35% - Recording studio (control room), on-air broadcast studio
45% - Noise control, voiceover booth
As a general rule of thumb, about 10-25% flat surface coverage will give you the most improvement with the fewest pieces. Anything over 25% is going to be more of a fine-tuning process to figure out whether it's an improvement, overdoing the treatment, or even achieving any difference. You can consult a professional acoustician to get a pinpoint on what your specific space needs.
SoundPro's custom Broadway panels from Primacoustic on display in our conference rooms in Dallas, TX (Left) and Madison, WI (Right)
CONCLUSION
Not only were Primacoustic's Broadway panels the perfect solution for SoundPro's cavernous conferencing conundrum, but we were also able to customize them to fit the SoundPro brand and aesthetic. These paintable options look more like the popular split-canvas art prints than room treatment, which is perfect for not only treating, but also adding some decorative touches to what was previously a rather sterile, impersonal space. Now it's an ideal backdrop for video conferencing, providing the practical acoustic treatment to our audio and delivering a decorative visual as well!
Discover your acoustic solutions and start optimizing the sound of your space today when you shop Primacoustic products at Sound Productions. For more information on customizing your panels, reach out to our knowledgeable Account Managers by e-mailing info@soundpro.com or calling us at 800.203.5611.
---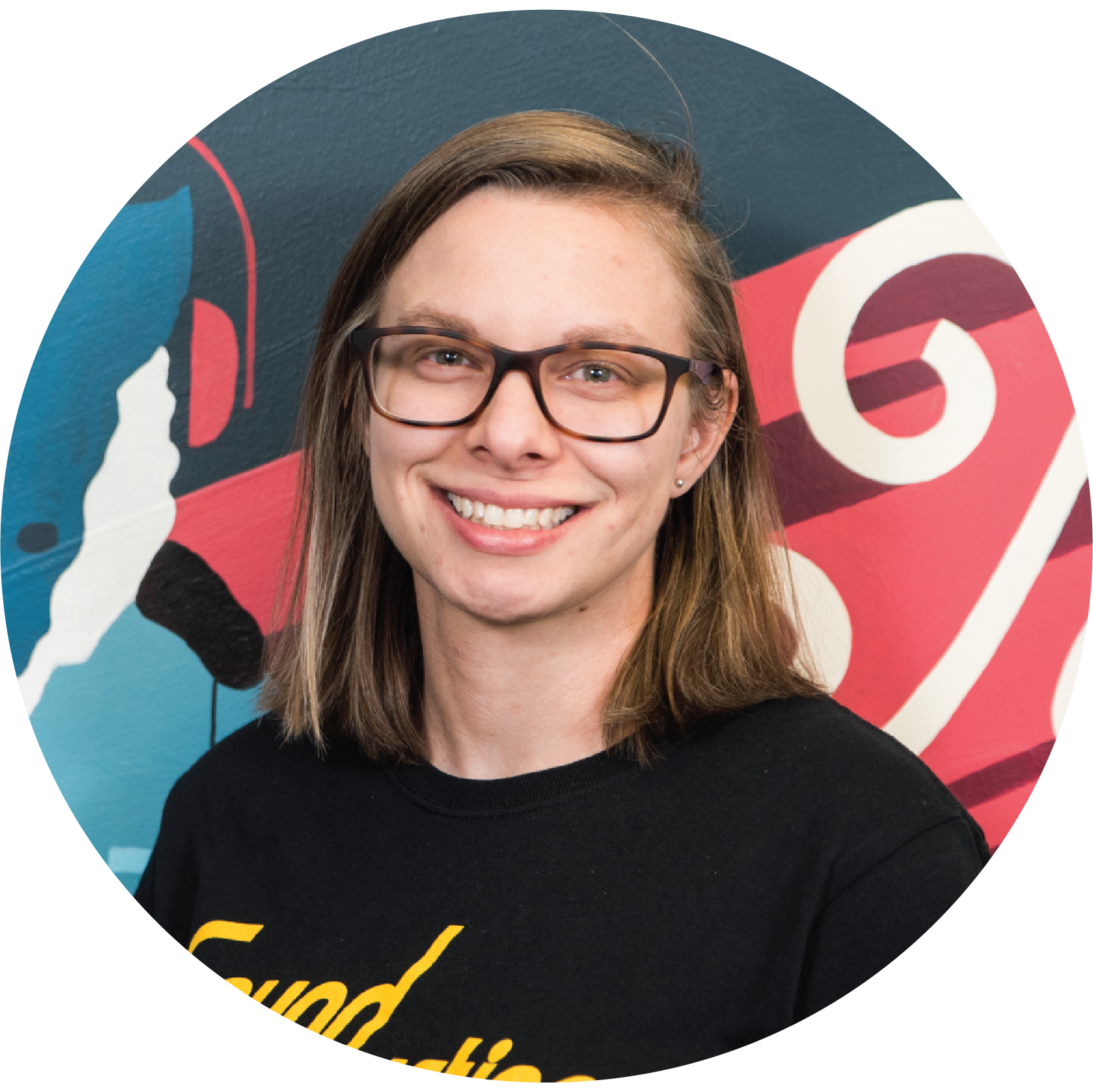 Laura Strommen – Web Content Specialist, SoundPro
Laura earned a BA in English at the University of Wisconsin – Whitewater and has over five years of experience as a content writer and copy editor. She's been part of the SoundPro team since 2021.
Resources
Sound Productions extends a special thanks to Primacoustic for their expertise and assistance!