Posted by Joshua Curlett, CEO, SoundPro on Aug 30th 2021
We've spent the last eighteen months investing in resources to better serve your pro audio, video, and lighting needs.

Mid-year "updates" in the AVL industry are traditionally tied to the winding down of trade shows and conferences – and are usually more reflective than pro-active. Because this year's calendar of events is different, I wanted to personally fill you in on SoundPro's recent news and plans. We've been investing in new resources over the past eighteen months to help us better serve our customers, and as a result, we are better prepared to help you in a year with different dynamics and challenges.

We now offer a more robust video selection.

As the need for video and collaboration solutions has risen over the past eighteen months, we've added more video products to our assortment. We are now well-positioned to help with displays, projectors, PTZ and production cameras, switchers and converters, and more.
SoundPro.com is new and improved.

In March of this year, SoundPro launched our new website. The transactional website offers advanced search functionality to help you find the gear you need quickly, plus it allows for payment plans through Affirm.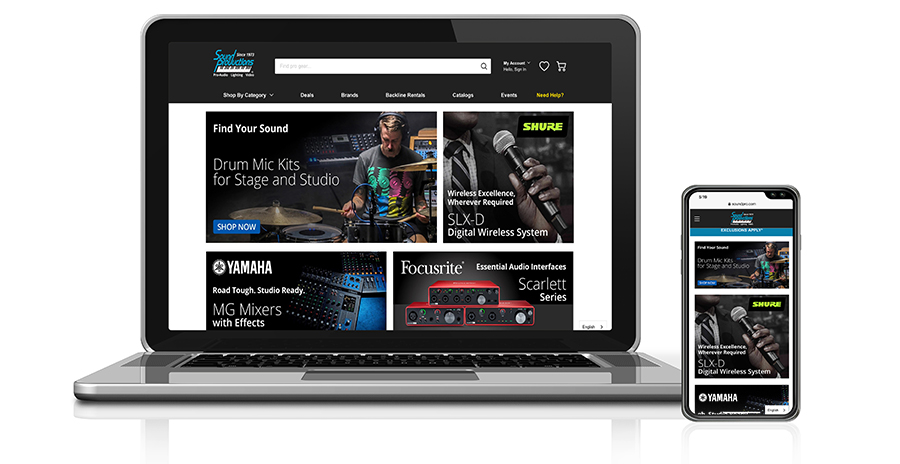 We've added new brands.

Just recently, we've added to our brand portfolio with products from Bose, AKAI, Audient, M-Audio, LEA and more. We're committed to sourcing additional brands and products, based on customer demand, as we head into next year.

We hired a new executive team.

Over the last eighteen months, we've added industry pros to the SoundPro executive team. Here are the leaders we've brought on board to serve you better:

Leilani Miller, Controller – Leilani has been instrumental in keeping our company financially healthy during the most challenging time I've seen in our industry. She keeps us accountable and provides excellent counsel as we steer through the post-pandemic year.

Ryan Mauer, Vice President of Sales – Ryan is a dynamic leader with broad and deep industry relationships. Music and sound are part of his DNA as he gigs on the weekends, so he brings his passion for sound and great tech to our organization. Ryan and his team of account managers are here to help guide customers make the right equipment decisions for their AVL needs.

Carolyn Scott, Vice President of Marketing – Carolyn – with broad experience in AV – is focused on getting you up to speed on everything we're doing. She will help keep you in the loop on new products, training and demo opportunities as you make decisions on the best gear for your application and budget.

Samantha Pink, Vice President Supply Chain – Samantha is an industry pro with deep and broad supplier relationships. At SoundPro, our value-add is being nimble and prepared. As you're looking for specific gear during this supply-challenged time, Samantha is leading our team to help navigate a more complex supply chain landscape.

We opened and celebrated a new office in Madison.

In July, we hosted a grand opening event for our Madison, Wisconsin office. We launched the office in March of 2020 but held off with the event until this summer, so that more customers could attend. We now have twelve team members in the Wisconsin office comprised of sales, marketing, eCommerce, merchandising, and purchasing. As a national distributor, we are also committed to building a regional presence where it makes sense to best serve our customer base.

More SoundPro events and trainings are coming.

We are currently preparing for the next series of in-person trainings, product demos, and open houses in our Dallas Experience Center. We hope to have news soon on a variety of upcoming live training events with AVL manufacturers. We're committed to giving you tools and resources, including the opportunity to see, touch, and use gear in a real-world setting, needed to make important buying decisions.

The 2021 industry calendar is a little different this year. Success in business, in any year, is about being prepared, and getting ahead of the curve. My goal, heading up our growing team, is to continue to invest in initiatives to help you navigate both challenges and opportunities better.