Posted by Kylie Bowman, SoundPro on Aug 19th 2022
With all the microphones out there, it can be hard to figure out which one is right for your voice. Fortunately, the SoundPro team not only has professional experience with the AVL gear we recommend, but many of our team members use this gear at their own performances, DJ gigs, houses of worship, and more. Here are some of our go-to microphones for vocal performance.

Our Favorite Microphones
While there's a wide variety of high-quality vocal microphones available, SoundPro's shortlist includes Sennheiser e835, sE Electronics V7, and DPA 4018VL.
Sennheiser e835: Cardioid Dynamic Microphone

The e835 is a dynamic mic with a cardioid polar pattern and is capable of handling high SPLs. Voices sound great from nearly anywhere: the e835's uniform frequency pick-up pattern maintains signal quality when moving on/off axis, and minimal proximity effect keeps bass clear and consistent when singing closer to or further from the mic.
This mic made our list because of its reliable performance and consistent sound quality. Our favorite attributes of the e835 are the overall sound clarity and excellent mid-range presence.
sE Electronic V7: Supercardioid Dynamic Microphone

The dynamic V7 is known for a crisp, open sound that captures your voice naturally while its supercardioid capsule blocks out other stage sounds. A patented shockmount efficiently decouples the capsule from mechanical vibration, helping the handling noise stay lower than other mics of its class.
Offering quality that can compete beyond its price range, we think the V7 has been a mic of undersung talents. The capsule is also available separately for use with major brands' handheld wireless transmitters, offering flexibility we love. We appreciate that this mic offers quality and flexibility to meet the gigging musician's needs.
DPA 4018VL: Supercardioid Condenser Microphone

A higher-end option we rely on is the DPA 4018VL. Experience refined studio sound while live onstage thanks to the mic's incredibly accurate representation of your vocals, smooth natural response, and great off-axis rejection. The 4018VL also excels with loud vocals – it has a 3-step pop-protection grid and can boast low handling noise at the top of its class.
The performers in our group love that they can get studio-quality feel while live onstage. It is also available in a variety of configurations, so you can choose the one best suited to your gear setup.

Our Go-To Microphone Series
Manufacturers often make gear in series that share common traits and technologies with a few key differences between individual products. These are some of the series with several microphones we find ourselves recommending regularly.
The Shure SM series is known for setting industry standards in live vocal performance, especially with the SM58. It's hard to go wrong with an industry standard, and the other SM mics share most of what has made the SM58 a beloved classic. The SM86 is another favorite from the SM series. We especially like that it has warm and natural sound – a challenge for condenser microphones when it comes to vocals.
Another Shure line we rely on is the KSM Series, particularly the KSM8 and KSM9. We are particularly drawn to the KSM8 for its low proximity effect and very clear vocal reproduction.
Sennheiser e900 Series Microphones

The Sennheiser e900 series has several microphones on our top picks list. Though the series is great for all vocal ranges, we love how the e965 and e935 compliment high-range voices. The e945 is another favorite – it produces warm, intelligible audio, produces low handling noise and low self-noise, and has excellent gain before feedback.
Honorable Mention Microphone Picks
Although that covers most of our top choices when it comes to vocal microphones, a few others made the list that are worth mentioning:
Shure Beta 58A: We like that this is a budget-friendly option that is reliable and produces consistent sound quality. Supercardioid polar pattern brings the focus in tight on your voice.
Electro-Voice ND76: We think this mic is a quiet hero of the industry. Performing beyond its class and price, the ND76 delivers crisp and clear vocals.
Audio-Technica AE4100: This is one of our favorite low-range microphones. Features include excellent isolation properties, great frequency response, cardioid polar pattern, and more.
Don't Forget the Guitar Mic
Since so many singers perform with a guitar, we wanted to suggest a few guitar microphones too. Shure's SM57 is a popular choice, but we're also big fans of the Neumann KM184, and the Sennheiser e906.
Product availability may vary by brand or product category, which may also prove a factor when deciding which microphone is best for you. For any questions regarding what microphone is best for your setup or assistance with other AVL needs, reach out to any of our knowledgeable Account Managers at 800.203.5611 or info@soundpro.com.
---
Research Contributors
A special thank you to Jason Thomas, Derrick Ramirez, Kris Landrum, and Shawn Tallard for making this article possible! To learn more about them, visit our Meet the Team page or give one of them a call.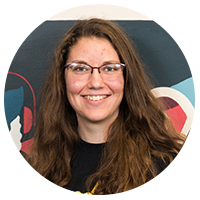 Kylie Bowman – Web Content Specialist
A lifelong passion for writing and music made Kylie thrilled to join the SoundPro team in March of 2021. There's a good chance she's currently sitting outside torn between taking a walk and taking a nap.
---