Posted by Laura Strommen - SoundPro on Jan 6th 2023
Estimated Reading Time: 13 Minutes
Streaming is a method of data transmission that records and sends media (such as audio and/or video data) via the internet. Live streaming is when this happens in real-time, giving a remote audience the ability to join events as they're happening. For houses of worship, live streaming is a great tool for engaging your congregation, increasing your reach to a wider audience, and enhancing your message.
Houses of worship have long utilized whatever technology was available to create at-home experiences that reach their congregation members as well as outside audiences, sharing recordings of services via physical media including CDs and DVDs, VHS, cassettes, and even 8-track tapes. Live streaming has also been an option for decades, but until recent years was primarily used by larger congregations with bigger budgets. Thankfully, as technology has developed to finally reach the demand—and necessity—of streaming worship services, live streaming has become more widespread, effective, and viable for faith facilities of all shapes and sizes.
BENEFITS OF LIVE STREAMING
Reaching individual members who are out sick, traveling, or are otherwise unavailable to make it in person
Expanding that reach beyond your congregation to an audience that includes not only your local community but also potentially around the world
Creating "content" that you can repurpose for posting on social media or your website
Increasing your online presence so that people can find your house of worship easier online and in the real world
Enabling real-time interaction such as Q&A, instant messaging, and other ways to engage a remote audience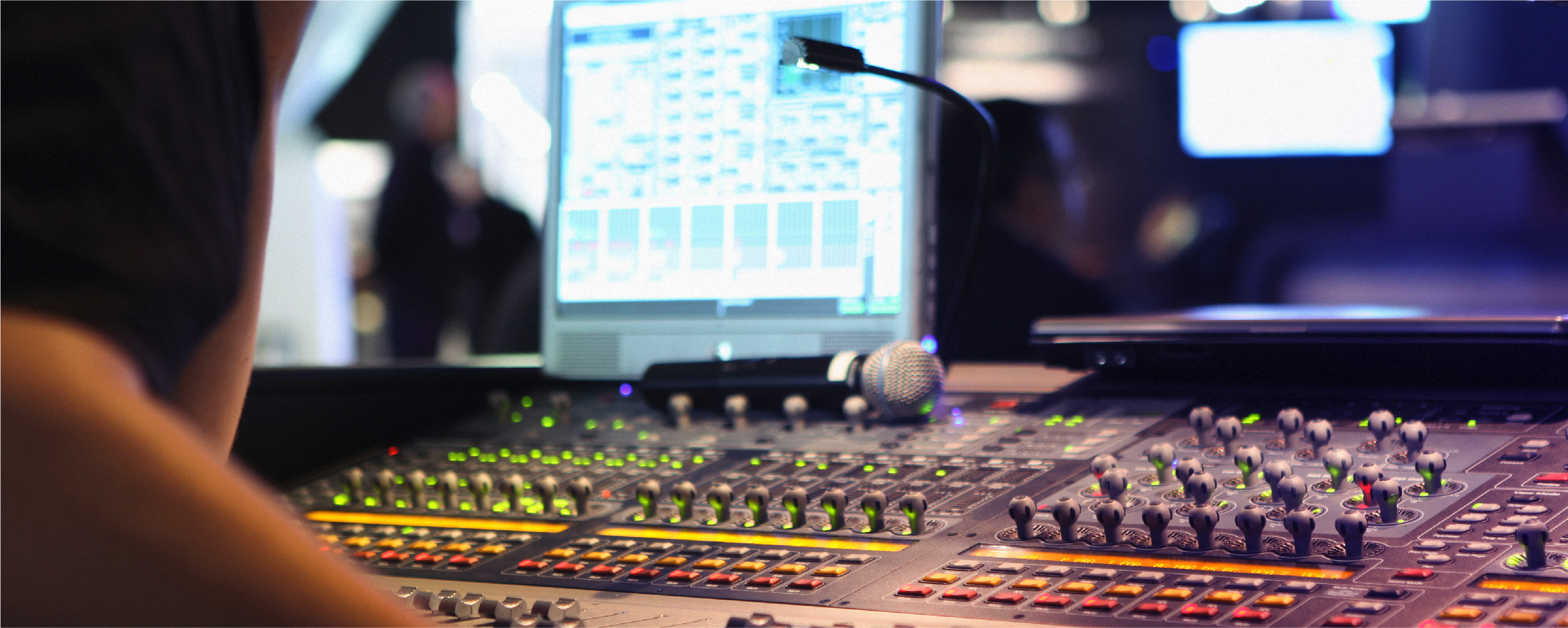 WHAT MAKES A SUCCESSFUL LIVE STREAM?
Let's say your facility already has the basic gear to meet the needs of a live audience. This includes microphones, speakers, a mixer (sometimes called a soundboard or console), and basic lighting. Most facilities also have Wi-Fi or some sort of internet connection or local network infrastructure. Building on this foundation, what do you need to start creating a live stream setup?
Audio is the Priority
To effectively communicate your message, your audience needs to hear it clearly. If you already have a quality sound system for an in-person congregation, likely this will translate well to remote viewers. However, if you know of flaws in your audio setup, amending these should be the first thing you do to prepare for live streaming.
Adding Quality Video into the Mix
Without the visual element, streaming a worship service via audio is akin to a radio podcast. While this may meet your basic needs, when you add video to your live stream, it gives your audience a more immersive experience. Depending on camera placement, viewers will be able to see people onstage, as well as possible projected visuals such as announcements or song lyrics. Messages can be more effective when the audience sees the facial expressions, body language, or hand gestures of the speakers.
Internet and Computer Processing that's Up to the Challenge
When incorporating real-time video, live streaming demands fast internet to prevent distracting lag issues. Your faith facility may also require some powerful computer processing to control the stream smoothly, particularly if you're hoping to use specific software.
TAKE STOCK BEFORE YOU STREAM
Start by making a strategy that encompasses your congregation's current needs and resources while trying to anticipate future opportunities for growth.
Your Overall Goals
What are you hoping to accomplish with your streams?
Who is your audience, and what technology is easiest for them to use to watch your streams?
Will you simply be broadcasting a service exactly as it would be in person? Or are you hoping to get some online engagement with comments, real-time interaction, or something along those lines?
Your Space
What are the needs of your space?
Where do you have room to install additional equipment?
Is there a place you could use for a dedicated "broadcast workstation" where someone can operate your gear?
Are there any architectural factors to consider (for example, support beams that might be in the way of a camera view, acoustic problems due to ceiling height, etc.)?
Your Budget
What equipment can you afford?
Can you commit part of your budget for upgrades in subsequent years?
Your Staffing
How many people do you have available to run the equipment during your service?
What do they know about the equipment?
What training will they need to get a live stream running smoothly?
Aim to make decisions that will help you grow or change as your needs grow or change. Even if you're just getting the basics to start, finding scalable gear will help you adjust to meet future needs.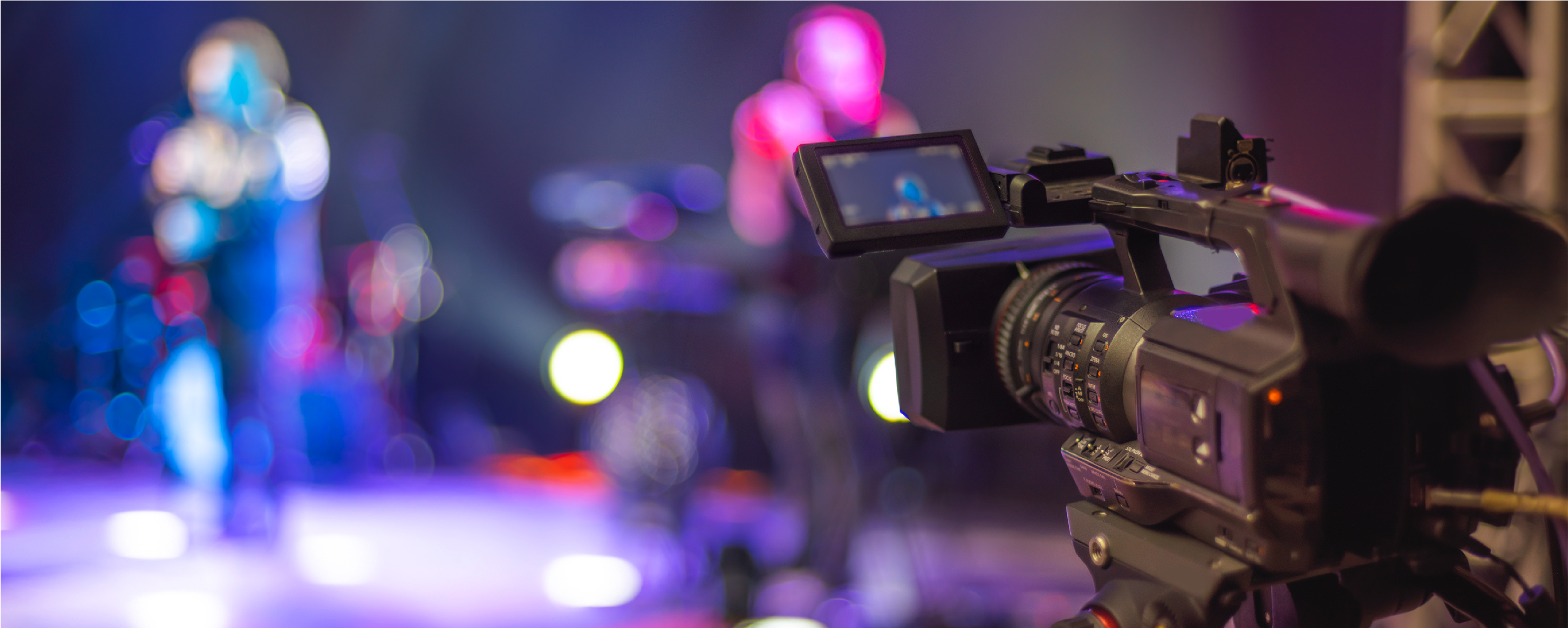 CORE EQUIPMENT FOR HOUSE OF WORSHIP LIVE STREAMS
Now that you've determined your goals, needs, and limitations, you'll have a better idea of what to look for when you start shopping for streaming gear. With today's prevalence of live streaming for multiple applications—including education, work, and; content creation, in addition to houses of worship—there's no lack of selection.
Choose Your Platforms
To further narrow down your options, focus on what types of streaming platforms you want to try. As a rule, it's better to broadcast on multiple platforms to reach a wider audience and to give individuals a choice of what's easiest for them to stream from their homes. Every streaming platform has its pros, cons, and distinct variety of features. Do your research to find out what platform will work best for your congregation, then look for gear that is compatible with those specific platforms.
Investing In Gear
In the early days of 2020's lockdown, houses of worship around the world faced the unprecedented challenge of reaching their congregations remotely. Many were unprepared, without any fancy gear, but that didn't stop them from achieving their goal. Using the built-in camera and microphone of a cell phone, tablet, or handheld mobile device, houses of worship were able to macgyver a solution to keep in contact with their congregations.
While you can still start with the basics of a mobile device, a tripod, and a streaming service, the result will likely underwhelm viewers who are accustomed to smoother, more reliable streaming experiences. Investing in dedicated streaming gear will help you achieve that better consistency, higher quality, and fewer headaches.
Broadcast-Ready Microphones
Depending on the size and configuration of your worship setup, you probably already use multiple microphones across a variety of categories. These may have originally been selected for their suitability for live performances, so it's worth looking into upgrade options to ensure you get a natural, realistic sound whether you're in-person or online.
Hands-Free Microphones for Speakers
Choose from gooseneck mics mounted to podiums, clip-on lavalier mics , and headworn mics to get the message out loud and clear. Learn more about the differences between two latter categories in our article Go Hands-Free: Lavalier Vs. Headworn Microphones .
Handheld Microphones for Vocalists
Handheld microphones are user-friendly and versatile, popular with singers, announcers, and events where the mic gets passed from person to person. Durable dynamic mics are a favorite choice for handheld use, but condenser mics are also a good option for achieving more studio-quality sound. Check out SoundPro's Top Microphone Picks for Live Vocals for some of our favorite models.
Instrument Microphones and Mic Kits for Musicians
Instrument mics are ideal for…well…miking instruments. Examples of popular uses include drum sets and other percussion instruments, as well as acoustic guitars, classical instruments, and even pianos.
Overhead Microphones for Choirs
Overhead mics are installed in the ceiling over the stage, enabling you to capture audio from choirs, special music ensembles, holiday pageants, and more.
A High-Quality Camera
Look for a video camera that can broadcast in the streaming standard of 1080p HD. Consider the size of your space to determine what type of camera you'll need to cover all the angles, or whether you'd like to invest in a multiple-camera setup that lets you better change perspectives throughout the service. Following the "selfie rule," angles from below the speaker tend to be unflattering. The ideal placement of a camera is at eye level, angled so that it seems the speaker is talking directly to the camera; this provides the semblance of "eye contact" with your remote viewership.
Lighting that Can Multitask
To capture quality images on your video streams, you need adequate lighting that enables your picture to look natural rather than dingy or dark. Equipping your stage lighting for video is a balancing act of looking good on-camera and in-person, as you don't want to blind the live audience.
Control the Stream
Optimize your signal and add a dynamic feel to your visuals. Joystick controllers , switchers, and multiviewers are great for exercising precision control over angles, zooms, and other changes mid-stream.
Complete Your Setup with Accessories
From camera lenses to tripods and monopods and beyond, finding the right accessories can make or break an otherwise stellar live stream. I/O Hardware & Cards let you add more inputs and outputs to create a fully integrated system that delivers all the features you need. Use the right cables to connect your gear and avoid latency that could ruin an otherwise seamless stream.
Design Your System to Change Over Time
Invest in the best possible tools you can afford given your budget, but don't agonize if you're not able to afford the most expensive, bells-and-whistles equipment. You'll likely need to upgrade this system or at least some of its components in the coming years.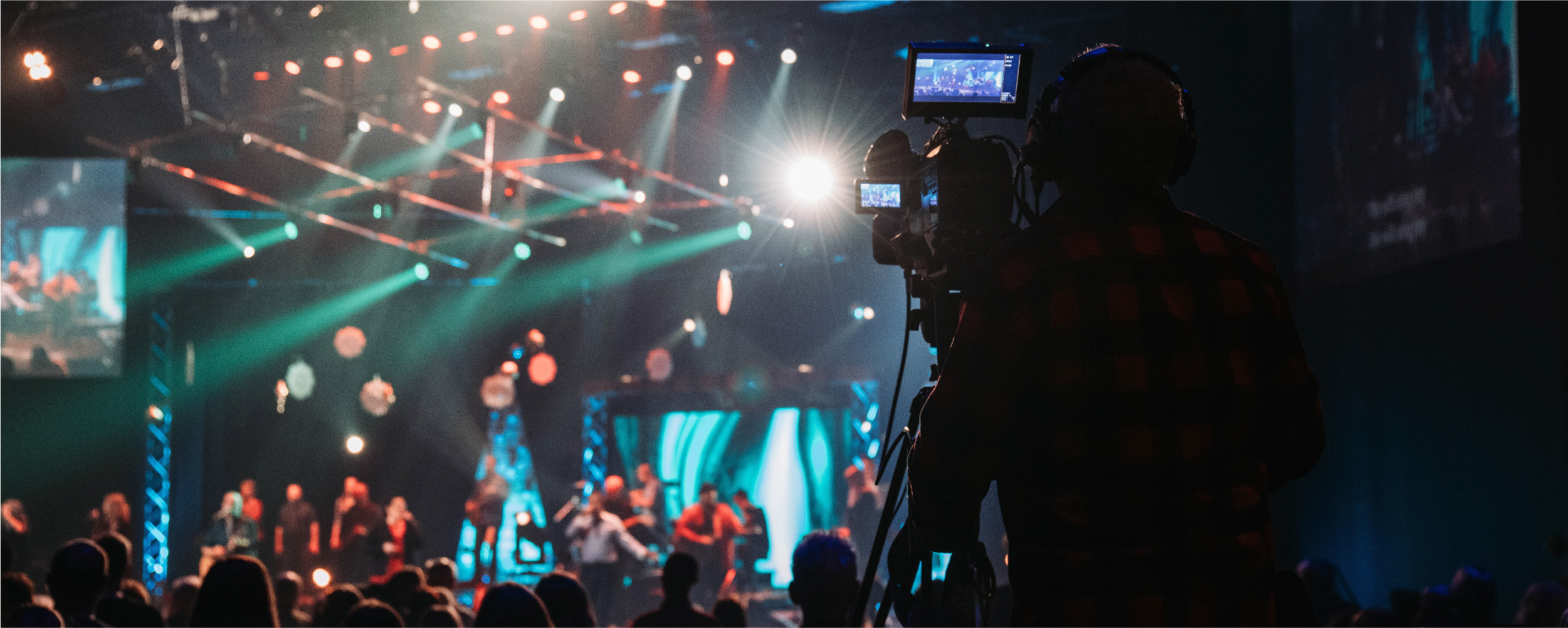 YOUR STREAM IS LIVE…NOW WHAT?
Experiment with new streaming possibilities until you find the right fit for your service, play around with your gear's functionality, and test everything to thoroughly troubleshoot before your service goes live.
Be Aware of Potential Pitfalls
Many factors can go wrong during a stream. When—not if, but when—this happens, don't despair. Use every problem as a learning experience that will help you prevent future mistakes and improve your streaming experiences going forward.
Here are a few tips to help minimize frustrations and avoid common live streaming pitfalls:
Be careful what you wear. Encoders and decoders sometimes encounter issues with small, subtle, or complex patterns, resulting in a moving "rainbow" effect that's distracting and unpleasant. Avoid this by asking the people who are on the stage to wear solid colors.
Broadcast on multiple streaming platforms. Streaming issues aren't always on your end: platforms aren't perfect, either, so broadcasting on more than one gives people a backup to switch to if one platform isn't working.
Stay current on music copyright rules. Some platforms have strict rules about copyright infringement and may remove your stream. This can be avoided if you only stream the verbal part of the service such as the message and announcements. If keeping the music portion is a priority, having a CCLI license should cover most copyright permissions—although this does not guarantee a particular song won't be flagged. Thankfully, many companies have recognized this conundrum and loosened their restrictions to help house of worship streams avoid these repercussions.
Aim your shots with purpose. It's crucial to respect the privacy of minors, victims of abuse, or individuals who simply may not want their faces captured on camera. Be sure to choose angles that confine the camera's view to what's in front of the congregation, such as the preacher or worship team.
REEVALUATE AS YOU GO, BUT KEEP YOUR PRIORITIES STRAIGHT
Track analytics and listen to feedback from both audiences (remote and in-person) to find the right balance that meets as many needs as possible. It's easy to get entangled in strategies—how to "hook" your audience when they first join a stream, how to keep them from "bouncing," improving search engine optimization (SEO), and so on. Never forget the basics: If your audience can't hear or see you well, they'll click out of the stream as fast as they entered it. New viewers (who don't yet have a connection to your congregation) are more likely to judge according to audio-visual quality before they take content into account. That's why it's important to offer a live stream with clear, natural AV to lock in a great first impression, so you can reach more and more people with a message that matters.
Interested in learning more about how to implement or improve live streaming for your house of worship? Contact the Account Managers at Sound Productions at info@soundpro.com or call us at 800.203.5611 for expert advice and a personalized take on what gear best fits your faith facility.
---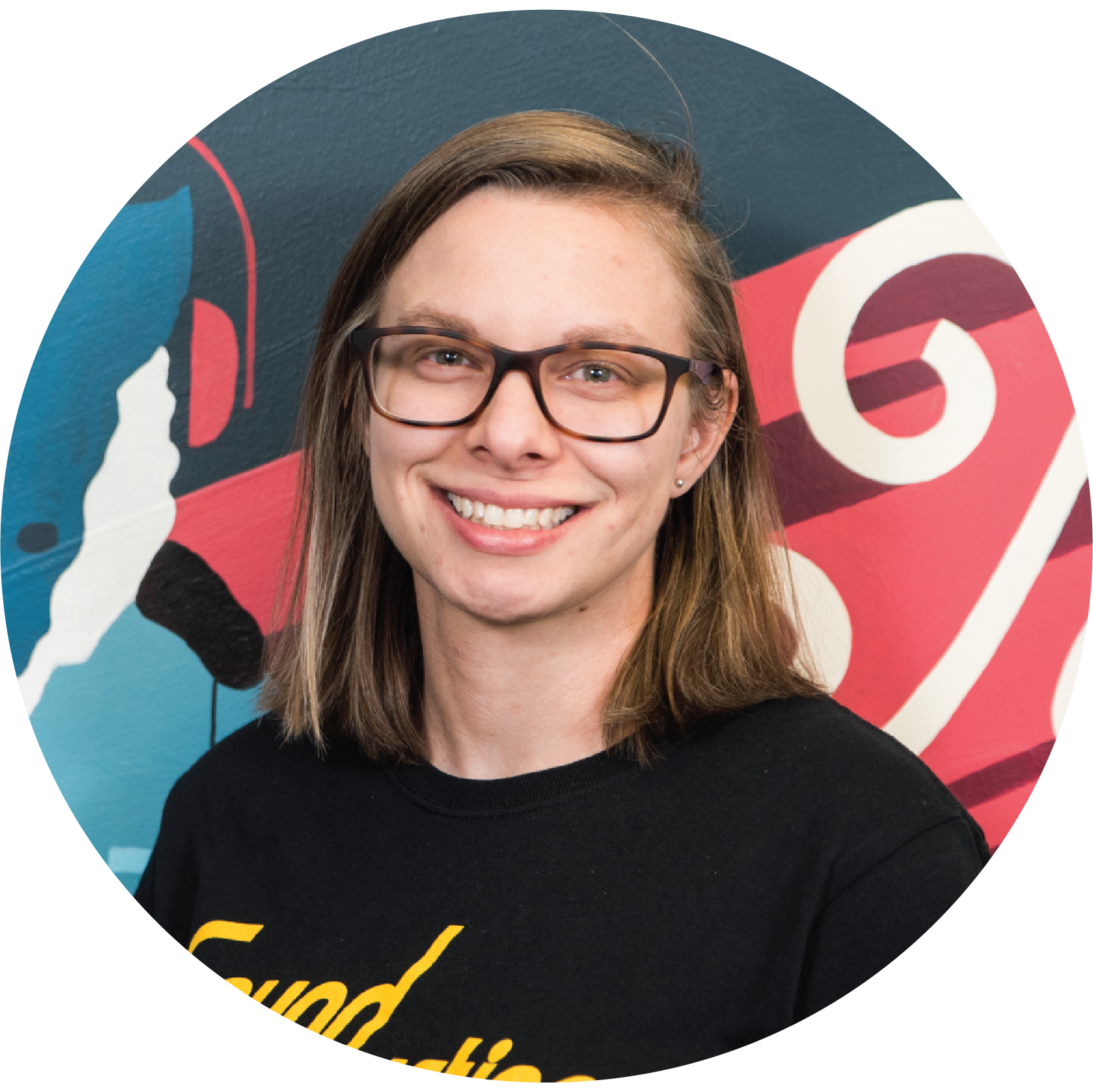 Laura Strommen – Web Content Specialist, SoundPro
With a BA in English from the University of Wisconsin – Whitewater and experience as a content writer and copy editor, Laura's passion for the written word includes reading, writing, and reading about writing.
Brian Kaphingst – Account Manager, SoundPro
Brian is a singer-songwriter that studied music recording and technology at Madison Media Institute. In 2010, he began his AVL career as a sound engineer and has served the industry in various sales roles ever since.
Shawn Tallard – Account Manager, SoundPro
Starting in the AVL industry right out of college, Shawn brings 25+ years of experience to SoundPro. He's a singer-songwriter/musician with two albums released under a pseudonym, licensing songs to major networks.