Posted by Laura Strommen - SoundPro on Nov 8th 2023
Estimated Reading Time: 9 Minutes
Video projectors are a high-tech solution for a wide range of applications, from their traditional use in movie theaters to more modern innovations such as video conferencing or dynamic backdrops. Their versatility makes projectors a great addition to classrooms, boardrooms, houses of worship, live performances, and more. Since each application expects different things from its projector, it's crucial to find the right fit for your specific space, use case, and (of course) budget.
IDENTIFYING YOUR APPLICATION AND ASSESSING YOUR SPACE
The first step in finding the right video projector for your specific application is to evaluate your space and take stock of what this application will demand.
The Purpose
How are you going to use your projector?
How often will the projector be used, and for how long? Based on this frequency of use, what lifespan do you expect from it?
What level of image quality do you need (i.e., clarity, color vibrancy, fluidity of movement, light/dark contrast)?
Will you need any accessories?
Do you anticipate your needs changing in the future? (This will determine whether you need to look for a more versatile model, or possibly a model with more features than you plan on using right away.)
The Place
What are the dimensions of the space (or spaces) where the projector will be used? (For instance, how close will the viewer be to the projection?)
Can you control the lighting of the room? Is there any ambient lighting, such as from an unshaded window, that might affect visibility?
Will the projector be relegated to a single space (enabling you to install it), or function in multiple rooms (requiring a portable option)?

If the projector is for mobile use, do you have a place to securely store it?
If the projector is going to be installed, where will you mount it (table/desk, wall, or ceiling); does that surface have the support required to hold the projector's weight? (Similar considerations may be needed for installing accessories.)
The People
Who will set up the projector?
Who will be operating it? Will they need training or assistance?
Who will keep up with any maintenance that may be required?
The Price
Does your budget allow for a larger investment upfront?
If repairs or routine maintenance are needed, will future budgets take this into account?
OTHER PROJECTOR FEATURES TO CONSIDER
Audio - Some projectors come with built-in speakers. However, not all projector speakers are created equal. If the projector model you've chosen to meet the visual side of things doesn't provide great audio, you'll need to supplement your setup with external speakers. On the other hand, if you're looking for a one-unit solution for teleconferencing applications make sure to research a model's audio specs in addition to researching its visual capabilities.
Remote Control - This feature is most important for projectors that are permanently installed in hard-to-reach places, such as on the ceiling, high on a wall, or sequestered in a small space where the model's control panel is inaccessible.
SOUNDPRO'S PROJECTOR PICKS FOR POPULAR APPLICATIONS
The following is a basic rundown of some of the most common applications for projectors, describing the typical environment of each application and suggesting specific models that may be a good fit for each situation. (For a more thorough overview of the different types of projectors, as well as how to interpret their specifications, check out our article [link to Lamps, Lasers, and Beyond].)
Mobile
While many of the applications we'll discuss tend to use projectors in a permanent installation, there are some instances where this wouldn't be the best solution. For example, if a school needs to share one projector between multiple classrooms, if your business is renting an office and can't mount a projector from the wall, or if you're outfitting a projector for a compact space that simply doesn't have room to have the projector set up permanently. Portable projectors can also be a good choice for end-user applications such as home theaters—their mobility allows you to take it temporarily outside for a backyard movie night.
Because these projectors' applications are on-the-go, look for a model that can "do it all"—that is, one that doesn't require a lot of accessories to do its job. For instance, you may look for a model that offers great image quality without the need for a dedicated projector screen, allowing you to display the image on a wall or other flat surface and thus dispensing with one step in the setup process.
Business
Aside from traditional cinemas, projection technology originally came to prominence through its usefulness in business applications. While projectors have since become popular in a wide range of other use cases, their ability to streamline communication and effectively convey visual information has ensured they remain a standard tool in professional settings, from the expansive lecture hall of a giant corporation to the compact office of a small business.
The quality of a projector's performance can make or break a professional impression when it comes to giving a presentation, conducting a meeting, video conferencing, or delivering training. Although oftentimes business applications don't require the highest caliber of color accuracy or fluidity of motion, one distinct need is adequate projector brightness. This is because business environments often have to deal with ambient light from windows, or their meetings require that the lights remain on during a presentation.
For larger companies, the ability to network your projector (or multiple projectors) across a corporate campus may be a key factor in deciding which model is right for you. In these cases, you'll need to look for a projector with wireless compatibility.
Education
Video projectors can be a great addition to a classroom of any grade, and are a versatile tool for displaying lecture outlines, playing documentaries or other educational videos, auditorium presentations, and providing a different medium for student projects. Among its many uses, video projectors can also serve as a key component for remote learning.
Positioning a projector in such a way that nothing gets between the projector's lens and the display surface is a major priority in educational settings. Considering seating arrangements is particularly important when choosing where a projector is installed—and what projector model to purchase.
Another challenge when choosing a projector for an educational setting is finding the "sweet spot" of a projector's throw range and its ability to project a large enough image for everyone in the room to see clearly—without viewers in the front row having to deal with visual distortion due to being too close to the projection.
As with business projections, educational facilities that are larger or upgrading their technology may need to consider wireless compatibility—for instance, a presentation may be projected into multiple classrooms to reach a wider audience throughout the campus.
House of Worship
Projectors are a staple of audio-visual setups in houses of worship of all shapes and sizes. They're used for displaying song lyrics during worship, relaying announcements, or presenting helpful notes and points during a sermon. Some houses of worship may use projectors not only to display static images but also to share videos with the congregation or at special events.
A primary challenge of projecting in a house of worship is the lighting. Traditional cathedrals or churches have often been designed with large, uncovered windows; while this allows plenty of daylight to create an aesthetically-pleasing, warm, and inviting environment, it's not conducive to recreating clear projected images. Many worship services meet in the daytime as well, making full use of this natural light feature. In addition, some services do not dim their overhead lights (allowing the congregation to read along or take notes during a sermon). These factors make it vital to find a projector that offers enough brightness to counteract overhead and natural light.
Image resolution may also be a priority for houses of worship. This is because, depending on the congregation, a house of worship may have a high proportion of older viewers with visual constraints. Although accessibility is important for all projector applications, this is likely more common with the house of worship segment than in a primary school, for instance.
Entertainment and Hospitality
For many of the previous applications, clear communication was the priority over artistic quality. For professional projector uses in the entertainment or hospitality industries, however, the expectations are the most demanding. Many applications in these industries use projections to display content to a larger audience or for long-lasting projections that require consistent, quality performance for hours on end.
Entertainment venues include theaters or cinemas where consistent performance and image excellence are required. Other uses may include dynamic backdrops for concerts, museum exhibits, or special events—all of which can't afford to compromise on quality.
Meanwhile, hospitality venues such as hotels, restaurants, and cruise ships also expect the best from their projectors, whether it's crafting a more immersive atmosphere or simply sharing important information and announcements.
RECAPPING PROJECTOR PRIORITIES
Video projectors provide rich, detailed images to add another dimension of clarity and connection to the viewers. Projectors recreate images on a grander scale than the biggest monitors or TV panels, offering a versatile, cost-effective option for sharing your visuals with a large audience. The key to enjoying the full benefits of this technology is to take stock of your space and application, determine your needs, and look for a model to match.
Need more information to decide what projector is right for you? Reach out to the experts at SoundPro at info@soundpro.com or 800.203.5611 for a personalized take on how to meet the projection needs of your application.
---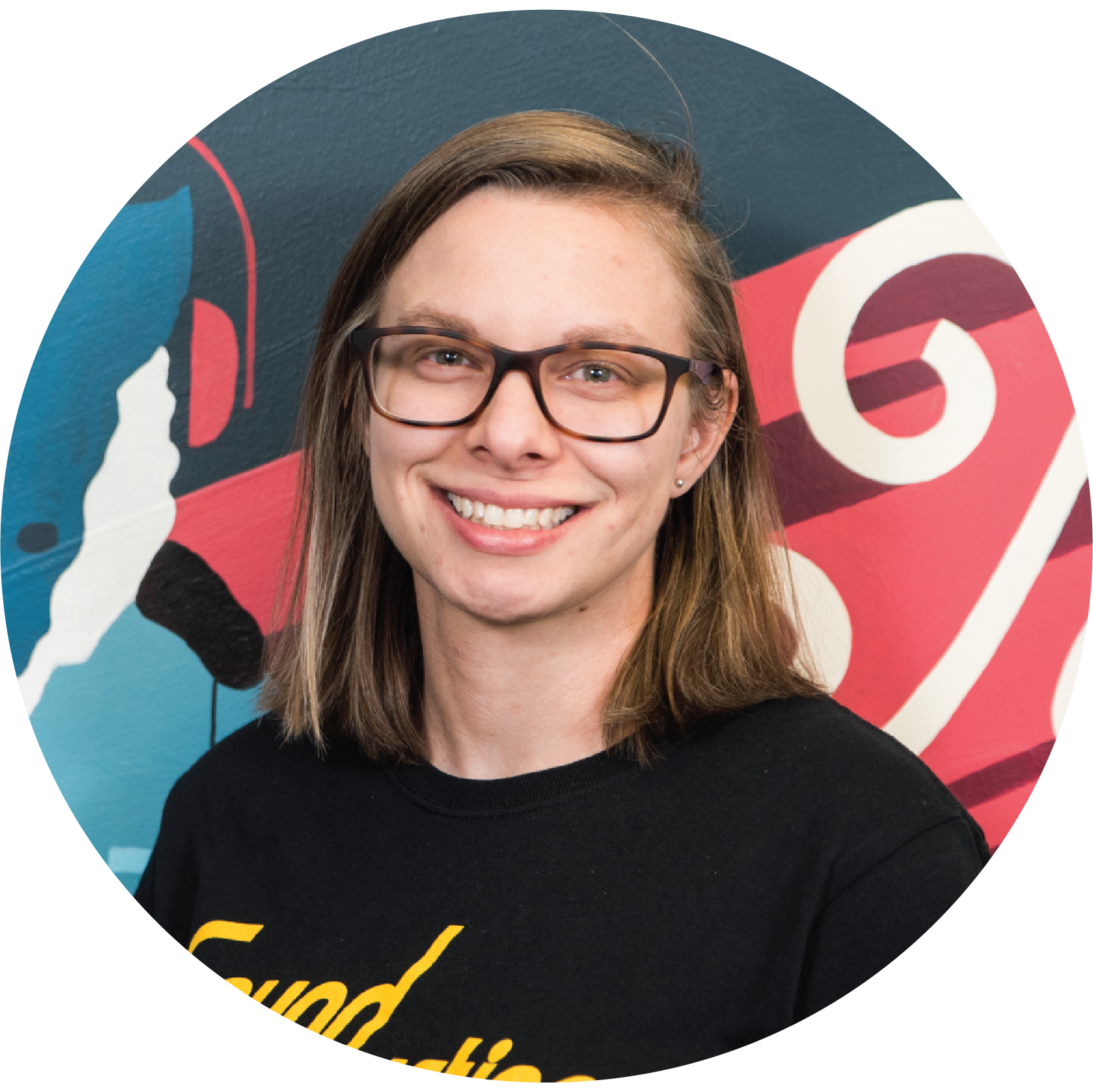 Laura has been a part of the SoundPro team since the summer of 2021. In her downtime, she enjoys hiking, quilting, and watching shark documentaries with her cat (though not all three at once).