Posted by Kylie Bowman - SoundPro on Dec 30th 2022
Loudspeakers tend to be the single greatest monetary investment in the signal chain so selecting speakers can be a big decision. Take some of the stress out of that decision by choosing JBL! JBL is a world leader in professional loudspeakers for recording and broadcast, cinema, touring sound, commercial sound, and contracting applications. Trusted at events like Woodstock 1969, the Grateful Dead's "Wall of Sound", thousands of elite sporting events, and the annual Grammy® Awards broadcasts, your sound is safe with JBL. See what style of JBL speaker is best suited to your needs.

Ceiling Speakers
Ceiling speakers are the perfect solution for installed sound systems to get optimal audio without giving up space to bulky speakers. This style can either be surface-mounted or flush-mounted to the ceiling, ensuring you get great overhead sound. Flush-mount the speakers for a clean, streamlined look, or surface-mount them to add a bit of character to your ceiling's aesthetics.
Although ceiling speakers take up less space than other styles of speakers, they do typically require some additional hardware. This is because most ceiling speakers are passive (without a built-in amplifier); they will require power via a speaker cable connected to an external amplifier, as well as a back-box for plenum ceiling installation. Installers must take wiring and the amplifier location into consideration before the installation process.
Ceiling speakers are a very popular style since they work well in any space seeking low-profile sound. They are an excellent choice to provide background ambiance, achieve immersive surround sound, and broadcast announcements. The features common to ceiling speakers make them a frequent choice in offices, retail spaces, restaurants, theaters, auditoriums, classrooms, and entertainment venues.
One of our favorite JBL series of ceiling speakers is the Control Contractor 20 Series. Speakers in this series are known for providing full-range, high-fidelity sound reinforcement that is well-suited to background music and music-plus-paging systems. You'll enjoy innovative features such as titanium-coated tweeters and JBL's proprietary diffraction-horn loading technology, which delivers wide, even coverage.

Surface Mount Speakers
Mounted to walls or other flat surfaces and secured in place with reliable hardware, surface mount speakers are excellent for permanent installations. Use them in temporary installations by placing the speaker on a stand.
You can confidently enjoy quality audio; position the speakers correctly when you mount them, and you'll have consistent sound throughout the speaker's lifetime. This traditional but versatile style of speaker can be found in just about any location. Some of the many applications for surface mount speakers include hospitality, small live stages, restaurants, retail spaces, classrooms, offices, houses of worship, boardrooms, and more.
A lot of the surface mount speakers we recommend from JBL are in their Control Contractor 20 series. Speakers and subwoofers in this line deliver full, rich sound, deep bass extension, high SPL output, and wide, consistent coverage. These and other features make them ideal for retail stores, restaurants, health clubs, theme parks, classrooms, and more.

Pendant Speakers
Like ceiling speakers, pendant speakers do not draw the eye away from other design elements and may even provide some visual interest on their own. Unlike ceiling speakers, pendant speakers hang down from the ceiling, making them better suited for rooms with high or open ceilings. By hanging down from a tall ceiling, the pendant speaker design can bring a clean, conical coverage pattern down to a level closer to the listeners. Most pendant speakers are adjustable, so you can hang them from ceilings of different heights.
Sleek and stylish, pendant speakers add sonic excellence without detracting from visual elements in the room. Given this beautiful look and reliable sound quality, you'll find pendant speakers installed in a wide variety of places, such as offices, restaurants, retail stores, resorts, hospitality venues, and other open-architectural spaces. Pendant speakers deliver high-quality sound masking, background music, or speech and paging situations in many applications.
The JBL Control Contractor 60 Series offers pendant speakers that can equip your high-ceiling rooms with signature JBL sound and outstanding coverage. Hardware is included to make the installation process seamless.

Column Speakers
Within the designation of column speakers , there are different styles, but the one we will focus on is the column array setup. Characterized by their long, narrow build, column array speakers feature a row of small speaker drivers, a shrunken-down version of a traditional line array setup. This makes them a great choice for installed sound systems in venues that require great audio quality and coverage but may not have a lot of space.
A slim design makes column array speakers easy to incorporate as a permanently installed speaker in any space, regardless of how much space is available. They can sit on the floor or be wall-mounted horizontally or vertically. Every seat in the house sounds like the sweet spot with the consistent sound quality column array speakers are known for. Column array speakers are popular in offices, studios, theaters, hotels, smaller stages, houses of worship, lecture halls, and entertainment venues.
JBL column loudspeakers were designed to offer a versatile solution for just about any application. We like the CBT series of column speakers since each model offers even audio coverage experience no matter where you are in the room.

Portable PAs
A portable PA essentially combines two styles of speakers into one: a subwoofer for the base and a column speaker for the top. With most speakers that are designed this way the column speaker can be taken out of the base, making it even easier to grab and go from gig to gig. This, along with built-in features (such as a mixer, DSP, and rechargeable battery on some models), makes them a popular choice for classrooms, singer/songwriters, houses of worship, restaurants, and more.
Sonic design of portable PAs allows them to deliver even coverage throughout the room. Bass coverage is supplied from the subwoofer and the column speaker makes sure sound reaches the audience at their level.
For frequent-use portable PAs, we have two JBL standbys that we swear by: the EON ONE MK2 and the PRX ONE. These both offer convenience for temporary installations and easy sound for people that have to place their attention elsewhere. This video, hosted by SoundPro Account Manager Kris Landrum , goes into detail about the specific features of our favorite JBL portable PAs.

High-Performance Line Arrays
Line array speakers are designed specifically to work together in large groups, making them perfectly positioned to reliably reach your audience with clear, powerful audio. Since they were designed to work as a large group, they are best suited for applications where large crowds are gathered, such as stages, stadiums, festival grounds, or clubs. Due to their size and the more complex nature of their setup, line arrays are ideal for permanently installed sound systems. Some models, such as JBL's SRX900 series , have innovative rigging and transport accessories to help you take great line array sound on the road.
Line array systems deliver the coverage you need while minimizing distortion – an excellent way to ensure no matter where someone is in the audience, they get an immersive audio experience. This type of speaker is also engineered for optimal clarity, so they can work just as well for speech purposes as for rock 'n roll. Use a line array system when high output sound and great distance throws are required (in a large space).
A little bit more calculation must be done behind the scenes to properly establish a line array system. JBL offers a line array calculator displaying accurate estimates of SPL coverage as well as output array parameters (physical size, weight, and rigging requirements).
When it comes to line array systems, we like the JBL VRX900 series. Speakers in this series are capable of exceptional power handling, clarity, and flexibility. Though still a large format, they are smaller than other comparable line arrays, making them excellent for professional sound in more settings.
Now that you have the basic information about the different styles of speakers, you're ready to shop! Check out the products referenced in this article along with other JBL products , and contact an Account Manager at 800.203.5611 or info@soundpro.com if you have any questions along the way.
_________________________________________________________________________________________________________________________________________________________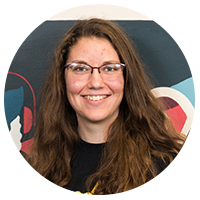 A lifelong passion for writing and music made Kylie thrilled to join the SoundPro team in March of 2021. Her winter hobby is watching snow fall from the comfort and warmth of her couch.